THE MOTHERLAND OF BEER
TOUR OVERVIEW
When most people think of German beer culture, they picture southern Bavaria, and Munich. But for us, nirvana is found several hours to the north: Franconia, and Bamberg. If we make one beer pilgrimage per year, this is where we go. Franconia boasts more artisanal breweries per mile or capita than any place in the world. Farmhouse, tavern, and monastery brew houses dot the landscape, as they have for centuries. Medieval alleys and trails lead to ancient beer halls, kellers, and summer festivals. And true craft brewers — some carrying on centuries-old family traditions — secretly conjure up authentic old-world lager, via time-honored methods.
There's Germany, and then there's Franconia. Other Germans come here to rekindle their love for traditional beer culture; international craft brewers come for brewing inspiration. We'll show you why as we bus, hike, train and swim our way through the world's Motherland of Beer.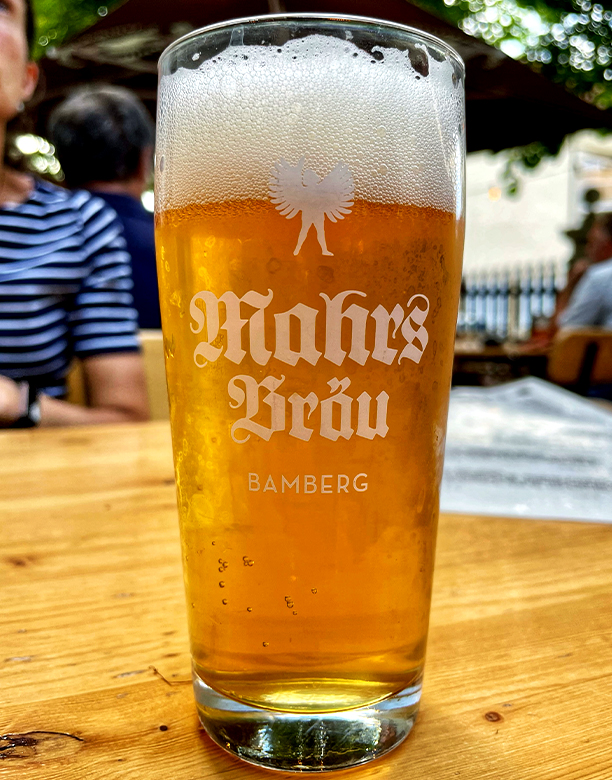 Welcome to Bamberg - try the beer
Pre-tour arrivers can kick off their week with various brewery and pub visits in Bamberg, and we hope to also schedule a tour this afternoon at Malzfabrik Weyermann. But the tour officially begins in the evening with an outdoor full-group dinner at Mahrsbräu, Klosterbräu, or another venue to be determined in Bamberg's old town. Whatever our choice, we'll enjoy a traditional Franconian meal, world-class lagers, and a great summer night in one of Germany's most beautiful small cities. Post-dinner there will be unlimited options for more beer and perhaps a bit of schnapps!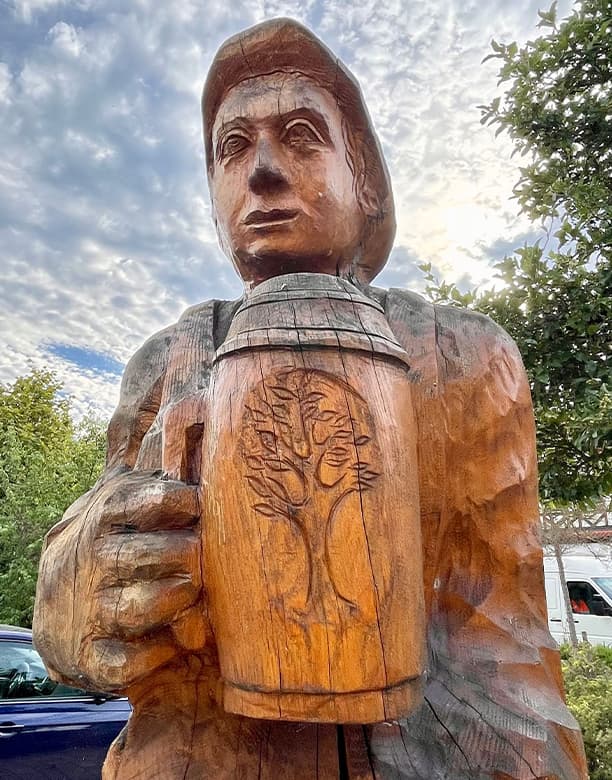 WOODLANDS, FARMHOUSES &
SLOW FOOD
Today the group is off on its first road trip, rolling through the placid Franconian countryside west of Bamberg before arriving at our favorite German farmhouse brewery, Zehendner. Here we'll drink the amazing Mönchsambacher Lagerbier, tapped and poured (often by the house matriarch) straight from the cask. We'll tour the small brewery, have at least one more beer and shoot some hoops in the biergarten before heading into the forest to commune with flora and fauna at the winding, wooden observation tower Baumwipfelpfad Steigerwald.
Having worked up our second thirst of the day, we'll then head to roadside-village brewery Bayer, where we'll quaff the sublime, unfiltered Landbier and savor the family restaurant's Slow Food-approved seasonal Franconian cuisine. We return in the evening for another optional late night out in Bamberg.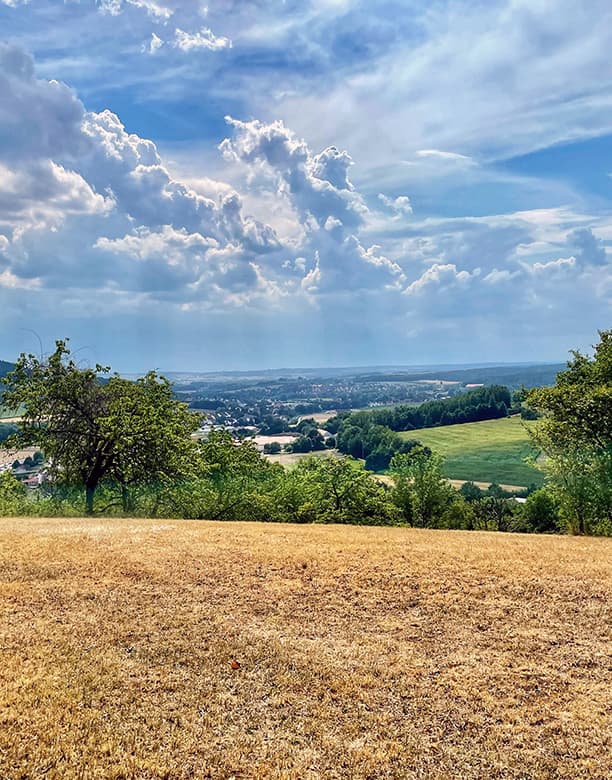 Exploring Fränkische Schweiz
This is our big hike day. Heading south from Bamberg, we enter the scenic, wooded Fränkische Schweiz ("Franconian Switzerland") region, stopping first at GenussHof Pingold, a beautiful family hop farm and one of the world's largest organic hop growers.
From there it's a quick ride to the magnificent Klosterbrauerei Weissenohe, the world's second oldest brewery, where we'll tap a special rare keg selected for our group before sitting down to a fairly epic beer lunch. And this is just the starting point for the Fünf-Seidla-Steig ("Five ½ Liters Trail"), a six mile, day-long ramble that leads to three local breweries before finishing with a bang at Elchbräu, whose biergarten has the feel of a botanical paradise. Speaking of botanicals, those with an interest in German kräuterlikor may get a private tour of the brewer's onsite distillery.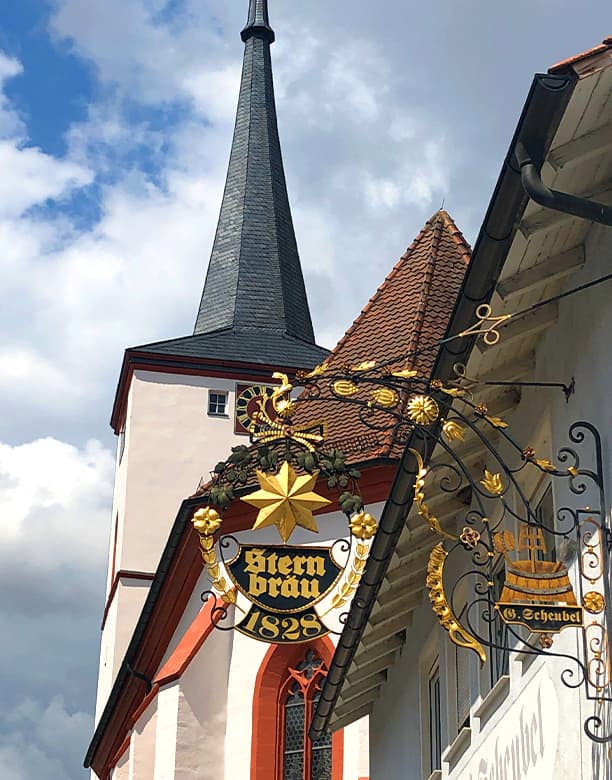 This is a day of exclusives. After a late morning of rest or Bamberg sightseeing, we'll board the bus and head once again to the countryside, with special American-expat guest Jim "Bocky" Barnes aboard. We'll visit the small village of Schlüsselfeld, where we'll taste beers at Bocky's two adopted breweries, Hertl (the tiniest and "craziest" in Franconia) and Scheubel, the very epitome of a classic Franconian small-town brewery/gasthaus/garten.
Then we're off to a very special, hidden gem: the Brullikeller, a centuries-old private woodland hideaway where a secret society of beer enthusiasts taps its own cave-fermented lager just for us. Guests will have the option of draining the keg or going for a swim in the nearby lake. Or they can do both, as beer steins are allowed in the water! In the evening we return to Bamberg and an array of free-night options: dinner and beer at a scenic hilltop keller, craft cocktails, late night café drinking on the river…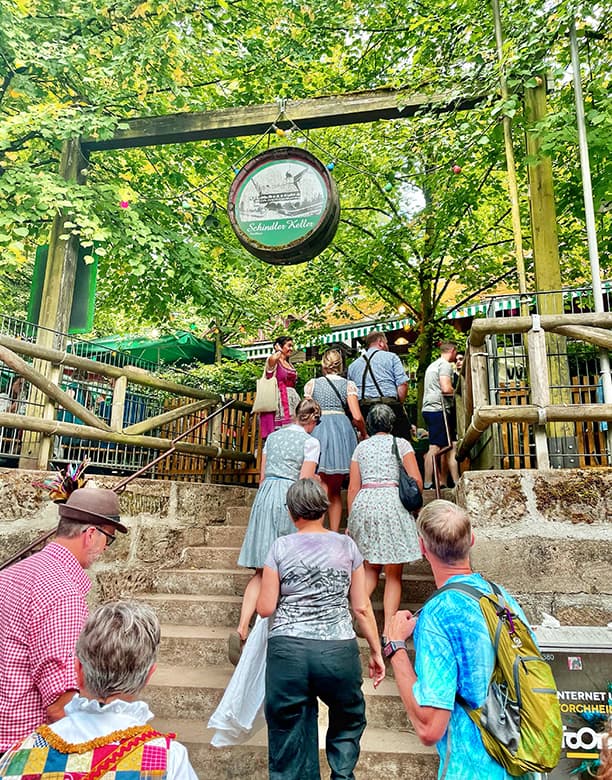 This morning and early afternoon guests will have a choice of a free half day or a guided Bamberg walk led by Ana. The walk will include major historical and architectural features and an overview of the various old town neighborhoods of this UNESCO Heritage Site city.
In the late afternoon we'll make a short train ride from Bamberg to Forchheim, scene of the sprawling, mountainside-forest spectacle Annafest. This massive summer celebration features the world's longest beer caves, bandstands, carnival amusements and a cast of thousands whooping it up in the local-brewery-run biergartens. As good-natured chaos generally ensues here, we'll plan set meeting places and return times for the ride back to Bamberg.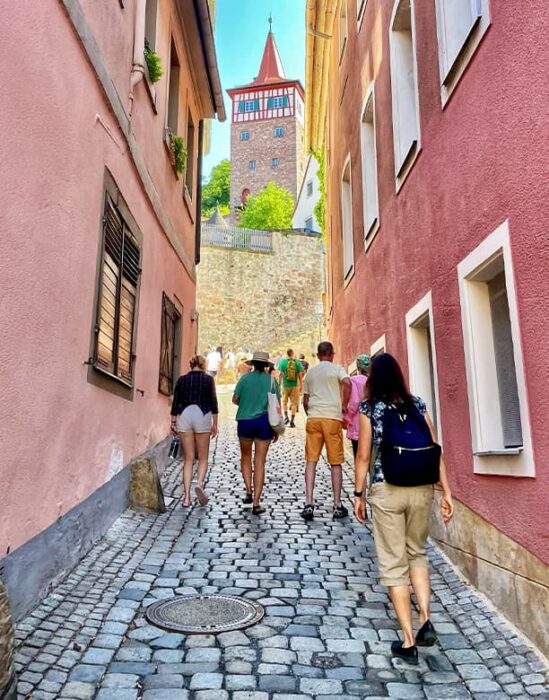 The Secret Capital Of Beer
In the morning we depart our Bamberg hotel for the last time, making the trip to Kulmbach, where we'll set up for a couple of days. Although the town will be in the middle of its busiest week of the year, we'll get a guided tour of either the brewing museum at the old Mönchshof Brauerei or the working 21st-century Kulmbacher mega-brewery. The massive importance of Kulmbach to the German brewing scene, both historical and modern, makes either option a unique experience. Afterwards we'll walk to the placid biergarten of the Kommunbräu brewpub, where we'll have lunch and try the house specialties.
The afternoon is free, but there will be plenty of options: a shopping spree for dirndls and lederhosen, a fun dip in the town pool, maybe even a side trip to the historical (and brewing) town of Bayreuth. In the evening there will be the possibility of grabbing spots one night early at the Kulmbacher Bierwoche festival, or, for those who want to wait for the main event the next day, a bar and food crawl in the old town.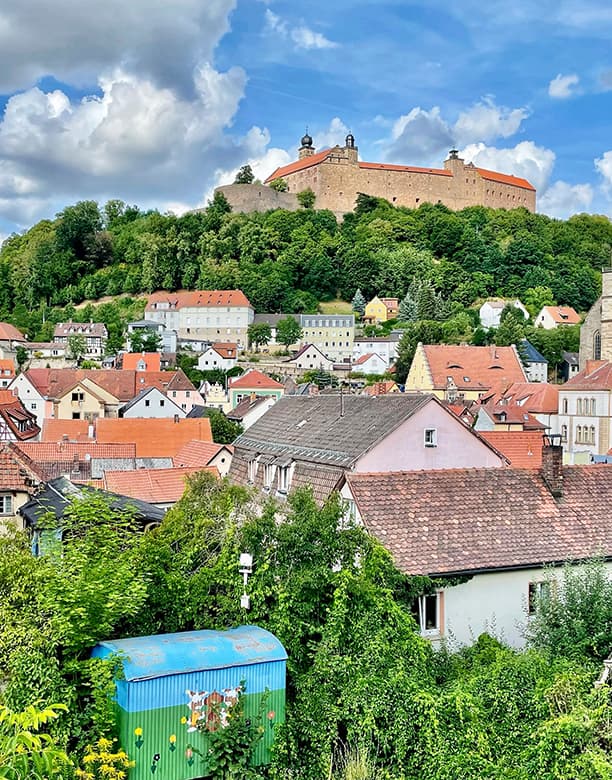 Looming over the town of Kulmbach and dominating the local landscape from its mountain perch is the massive Plassenburg Castle, Franconia's largest and best-preserved fortress. Having worked up a healthy thirst (which will come in handy) hiking up, we'll get a private tour and marvel at its impressive military artifacts collection.
Then we're back into town for some last-minute souvenir shopping, or to rest up for our tour's main event: Kulmbacher Bierwoche. We'll arrive at the fest site at 4:00, optionally decked out in our traditional Bavarian garb, to take over several coveted VIP tables. We'll then proceed to stomp, sing, eat, drink and whoop the night away, to the thumping sound of an energetic German party band and the unison singing of thousands of happy Franconians.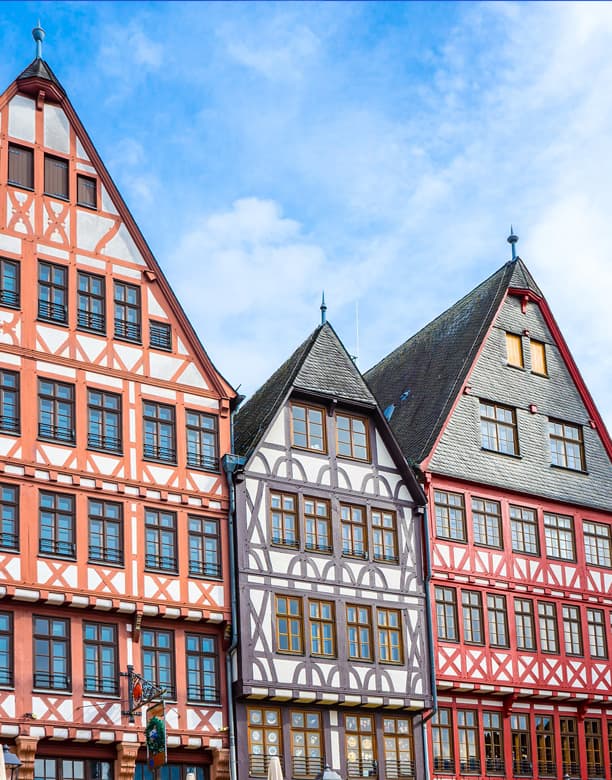 After going at it this hard in the provincial motherland of beer for seven days, it's time to make a clean break, get back to the cosmopolitan city of Frankfurt and begin to return to some semblance of a normal life. Or maybe to take in one last night of Teutonic debauchery? Your call.
Having arrived in the early afternoon at our hotel, guests will have the option of laying low in preparation for early morning flights or hopping over to Frankfurt's old party-neighborhood of Sachsenhausen to partake in the city's gift to the beverage gods, apfelwein. While totally optional, this excursion will include an apfelwein tasting, dinner, and maybe more apfelwein, or beer, or cocktails. Sachsenhausen's abundance of late-night international fast-food options offers the perfect close-out to our journey.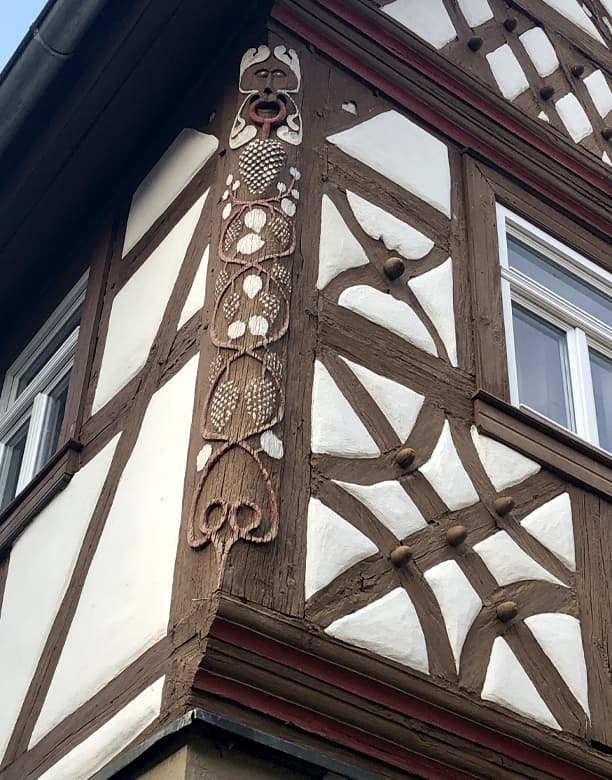 Frankfurt being a world transit hub, guests will be perfectly situated this morning to either catch their flights home or continue on to other German, European or intercontinental destinations by air, rail, bus or rental car. ICBT staff will be on hand for anyone needing assistance, ensuring that a great trip ends with a non-stressful departure day. 
PER PERSON, BASED ON DOUBLE OCCUPANCY
(ADD $300 FOR SINGLE OCCUPANCY)
8 Nights of hotel accommodation
Ground transportation to and from all experiences listed in the itinerary except where noted.
15 Meals
– 8 Breakfasts
– 3 Lunches
– 4 Dinners
**Tour prices are per person and do not include airfare.
*Single occupancy rooms are limited.
WHAT TO EXPECT ON
"THE MOTHERLAND OF BEER"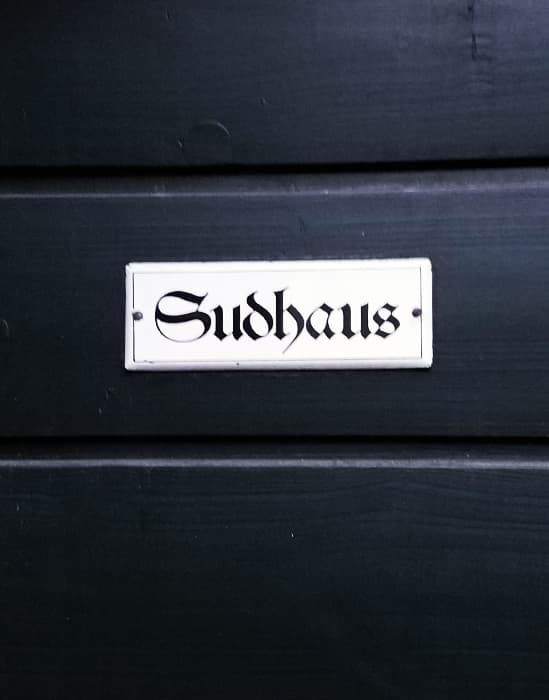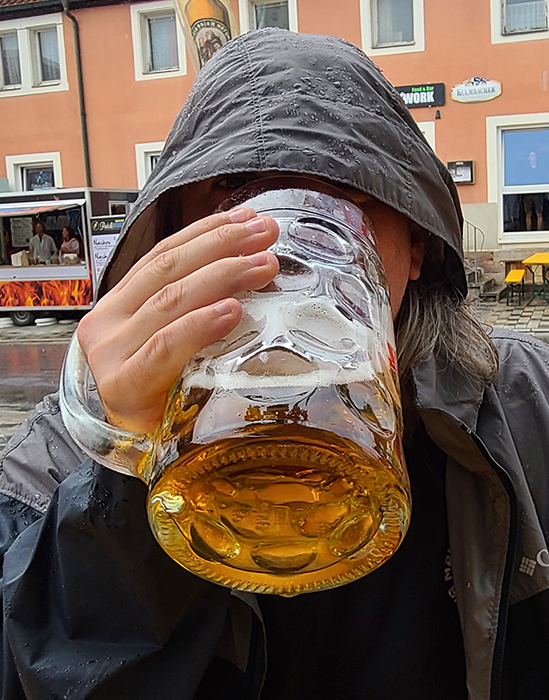 Itinerary, Walking & Bus Rides
This is the most active of our tours, with lots of walking –at least a mile per day and in some cases much more (Friday the 26th features 6+ mile hike, mostly flat but with some steep woodland climbs, Sunday the 28th requires a 1.3 mile sloping trek to a festival that further requires more hiking to explore, and Tuesday the 30th a ca 20-minute mountain climb to reach a castle). If you don't already put in some regular steps at home, best be prepared for a challenge at times, though in a pinch, taxis could be taken (at own expense) on occasion in the towns.
We will of course have a private bus otherwise, and most of our rides (the big exception being the return to Frankfurt July 31) are less than an hour. The bus may or may not have a toilet; if not, toilet stops will be made as needed. If you are, or are traveling with, a person with a disability, please discuss with us in advance.
Breakfast is included in all hotels and we strongly encourage you to take advantage of it. Lunch and / or dinner (note: usually quite hefty!) will be provided on tour days as specified; these are all casual and tend to be at breweries or festivals. There will be plenty of time and easy access to restaurants for meals not included in the tour, and we offer info on options in each city. We encourage you to pack small snacks for long tour days and to bring a refillable water bottle. All restaurant meals included in the tour will feature vegetarian options, but vegan selections cannot be guaranteed ever.
Complimentary set amounts (specified in advance each day) of beer, wine (when available) or soft drinks are offered with all included meals, but liquors and cocktails will be at guest's own expense. Varying amounts of beer are included on brewery / keller / museum tours, depending on venue (please note that we are not an all-you-can-drink tour, and we encourage / expect moderation in alcohol consumption during tour hours!).
In Bamberg we stay 5 nights at the very good and well-situated 3-Star Best Western, which is a modern American-style hotel. In Kulmbach we split the group for 2 nights between two German old-school and characterful central hotels, Ertl and Kronprinz, which do not have AC (there actually isn't a hotel with AC in Kulmbach). During hotter summers this can be challenging for some; during cool ones not so much. But fans are provided.
Cult Hotel in Frankfurt (1 night at the end) is a fairly basic 4-Star that's mostly very convenient for airport and nightlife access. Guests will be near bars and restaurants in all cases, and we provide handy printed/digital guides for extra-curricular eating & drinking in each town.
Late July has sometimes meant sun and 90s, sometimes clouds and 60s. But mostly it's shorts / t-shirts weather. Best to check the forecast to see in advance whether any jackets or sweaters are needed. The most important item will be comfortable walking or even hiking / trail shoes as we'll be on our feet a lot walking on cobblestoned streets, through woods, and up hills.
A nicer outfit than brewery t-shirts may come in handy on some of the brewery dinners, and we have (weather permitting) at least 2 opportunities to put on swimwear too. Lastly: lederhosen and dirndls are enthusiastically encouraged for festivals, either brought from home or purchased in Franconia! But not at all required.
(Itinerary subject to change)
More information about the destinations
we'll visit on our Franconia Tour
**Every effort has been made to ensure the accuracy of information presented on this webpage. Inner Circle Beer Tours (ICBT) is not responsible for errors in or damages resulting from use of the information contained herein. Information contained on this webpage is subject to change without notice.**